Diamond- Monarch Grand Cancun Resort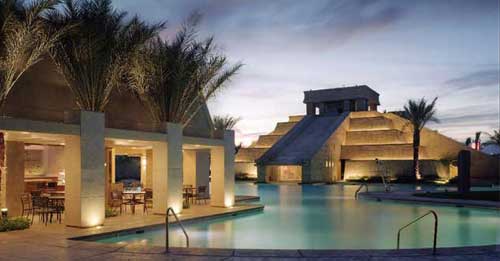 Ad ID: 255568 Rent Price: $3,200.00 Neg. Bedrooms: 4 Bathrooms: 4 Week #: Floating Usage: Annual Unit Number: Floating Points: 9,000 Resort Name: Diamond- Monarch Grand Cancun Resort
Location: Nevada
City: Las Vegas
Description: *Includes Rental Warranty*
Cancun Resort, in fabulous Las Vegas, Nevada, is an all-villa gem and the epitome of sophistication and indulgence. There are few Las Vegas resorts can equal the comfort, affordable luxury and sheer spectacle of this architectural gem. The resort's expansive, palm-lined grounds feature 2 Mayan-inspired outdoor pools with a poolside restaurant, lounge, and hammocks. 4 waterslides, a day spa, and a fitness center are on site.

Spacious 1- and 2-bedroom villas at Cancún Resort feature kitchens, furnished balconies, cable TV with DVD players, and wireless internet access.
Exquisite Mayan sculptures, creative and playful waterscapes and slides, dramatic lighting effects and the harmony of elements; fire, earth, water and wind work together in concert providing an unforgettable vacation experience at our Las Vegas resort's ideal location. Dream of the ultimate vacation destination. This is it!